International Agricultural Research Methodology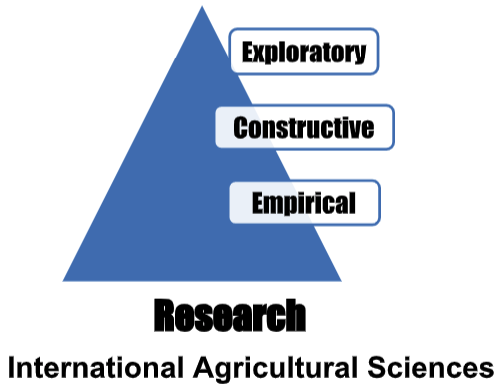 (2 Credit – SPRING AB)
International Agricultural Research
Methodology(01ANB05)-Spring A (1 Credit)

Advanced International Agriculture Research
Methodology (01ANB06)–Spring B (1 Credit)
Instructor:
Tofael Ahamed

Catalog Description:
The goal of this course is to provide a sound understanding for creating new knowledge, which takes three main forms: Exploratory research, which structures and identifies new problems, Constructive research, which develops solutions to a problem and Empirical research, which tests the feasibility of a solution using empirical evidence. A hands-on exercise will be given to improve reasoning skills, emphasizing agricultural problems, and issues. The course covers research methods within these three forms with basic knowledge of research methodology.

Course Objectives:
To learn research methodologies those are helpful in different forms of agricultural and environmental research.

Numbers of Hours: 25 hrs

Quiz:
There would be feedback quizzes to practice in the classes. The quiz covers the theoretical to practical aspects of research methods.

Exam
There will be one feedback open book exam at the end of the semester.

Project and Thesis Concept
The project is building a demonstration model for general to public. The mind map for masters thesis will be developed considering research forms. The fundamentals of proposed research techniques and thesis concept will be presented by each of graduate students.
Reference Books
Data to Knowledge: Interdisciplinary Research Methodologies for Agricultural Sciences, Ahamed
Tofael, Nova Science Publishers, 2017-06
Applied Agricultural Research-Foundations and Methodology, Chris O. Andrew
and Peter E. Hildebrand
Statistical Procedures for Agricultural Research, Kwanchai A Gomez and Arturo A. Gomez
Handbook of Statistics for Teaching and Research in Plant and Crop Science, UR Palaniswamy &
KM Palaniswamy